Online Appointment Scheduling for Massage Therapists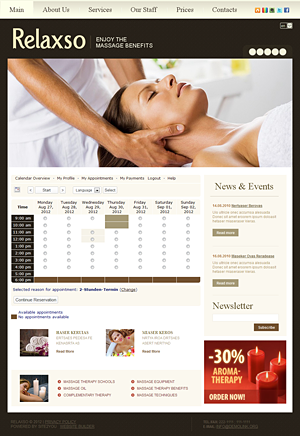 Our customers include massage therapy clinics and mobile massage therapists. Since their daily business often leaves little time to make phone calls or reply to appointment requests via email, our customers appreciate the option of offering online appointment booking. They can put their entire focus on their core business, because the customers will take care of booking, changing and canceling their own appointments.
Mobile massage therapists especially appreciate being able to access appointment and customer information on the go with their smartphones. This is made possible by the integration of Google Calendar which can keep one's schedule continuously updated on a variety of mobile devices.
The system is suitable for one or more massage therapists and can be quickly customized to existing time slots and reasons for appointments. Vacation and other periods may be blocked off as needed. The online appointment system can be integrated into any existing website.
Other Resources
Demo Scheduler